Skilled Nursing
Our visiting skilled nurses are experts in administering the treatment you need. These programs are provided either by a registered nurse or a certified nursing assistant under the supervision of a registered nurse. Depending on availability, we will match your needs with a nurse who is capable of delivering the following care services:
Catheter Change
Disease Management
Patient Education
Home IV Therapy
Comprehensive assessment of your general health
Coordination of Home Medical Equipment
Wound Vac
Administration of Medications
Complex Wound and Ostomy Care
Medications Monitoring
Vital signs Monitoring
Diabetes Education
Anticoagulation Monitoring
Skilled Nursing Care is available all day, all week. We also have an on-call service. To know more about skilled nursing services at Quintessence Health Care Services, please contact us.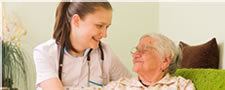 Contact Information

15719 Ensleigh
Lane, Bowie MD 20716
Phone: (301) 262-5669
Fax: (301) 576-6043
Hotline: (240) 460-0633
info@qhcscares.com