Reason Why We Care
We want to make a difference in your home.
Quintessence Health Care Services provides more than just health care services. We want to make a positive impact and a helpful contribution to you or someone you love in your home or the care facility you are currently in. The nature of our business involves managing your health, your health situation and assisting you with daily living activities. We take a holistic approach to every case assigned through our agency.
We care because:
We want to give you the home support solutions you need.
We want to lessen the pain and difficulty of handling illness, disability or old age.
We want to be set apart from other care providers in Maryland. Our aim is to be the best.
We want to be the only choice that comes to mind for Health Care Services.
We want to help clients live better lives at home.
We want to equip both the patient and the family caregiver with the proper approach to handling the effects of a disease. Knowing what to do when a situation comes up can prove to be life-saving for many occasions.
We want to build a trusting and lasting relationship with our clients.
You can speak to one of our representatives and ask about the availability of our services in your area. Call us today at (301) 262-5669!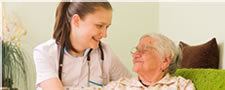 Contact Information

15719 Ensleigh
Lane, Bowie MD 20716
Phone: (301) 262-5669
Fax: (301) 576-6043
Hotline: (240) 460-0633
info@qhcscares.com