Our Team
The Quintessence Team
Our nurses have the dedication and reliability that is needed to provide services, one-on-one intensive individual support services, family training and respite care with the highest standard of quality and commitment you and your family deserve 24 hours 7 days week.
We pride ourselves on successfully matching clients and caregivers to ensure the highest quality of care and client satisfaction. Our nurses are insured and bonded.
At Quintessence Health Care, our experienced and dedicated client-centered nurses work together with our client, our client's Physician, client's caregiver and their insurance company to provide excellent nursing and home services.
Our nurses are our pride because they are quality affirmed and service oriented. We continually improve our nurse's skills for excellence which is what we strive for. We are providers of innovative and quality care.
Our team consists of:
Registered Nurses
Private Duty Nurses
Licensed Practical Nurses
Certified Nursing Assistant
Certified Medication Technician or Aide
Geriatric Nursing Assistant
Home Health Aides
Personal Care Providers
Direct Care Workers
Companions
Sitters
All our employees are certified, bonded and insured. They have received specialized training to effectively serve patients in a home setting. We have chosen them for their reliability, dedication and skills. Hiring the best to take care of you has been a consistent practice here at our agency.
The staff members at Quintessence Health Care Services get regular training and coaching on topics such as:
Effective Communication
Roles and responsibilities of a professional caregiver
Caring for the elderly and disabled
Mobility Assistance
Range of motion exercises
Preventing further injury
Preventing health complications
Safety at Home
Documenting Vital Signs
CPR and Emergency Response
JOB SKILL PROFILE FORM
JOIN OUR TEAM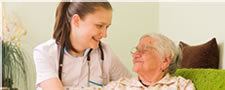 Contact Information

15719 Ensleigh
Lane, Bowie MD 20716
Phone: (301) 262-5669
Fax: (301) 576-6043
Hotline: (240) 460-0633
info@qhcscares.com