Home Health Aide
Would you like to shorten your stay at the hospital or care facility? How about ensuring that your loved one receives the best care at the Nursing Home, Group Home or in your own home?
The location is not relevant because our quality of service remains high. All the home health aide support services you need are available at Quintessence Health Care Services.
A Home Health Aide has the following responsibilities:
Meal preparation (breakfast, lunch, dinner plus snacks)
Personal care and attention
Assistance with bathing, grooming and incontinent care
Housekeeping
Laundry
Health status monitoring
Grocery Shopping
Transportation to and from medical appointments
Would a Home Health Aide make it easier for you to manage your health? Please request for an appointment to discuss your needs with a case manager from our office. Call us at (301) 262-5669 or send us a message.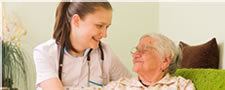 Contact Information

15719 Ensleigh
Lane, Bowie MD 20716
Phone: (301) 262-5669
Fax: (301) 576-6043
Hotline: (240) 460-0633
info@qhcscares.com