Care Solutions
Get ready for the best experience in health care services. The nurses, caregivers and healthcare professionals at Quintessence Health Care Services will ensure uninterrupted care from hospital to home.
Our agency is made up of a caring nursing team who has an objective to help people recuperate at home after surgery, nursing a wound/disability or while recovering from an illness.
Throughout the many years in this industry, we managed to gather a collective expertise that is echoed to every new employee who joins Quintessence Health Care Services. Our improvements don't stop and we continue to deliver only the best home care solutions and skilled health care services to our clients.
We believe that you or someone you love should be given a chance to enjoy life at home despite illness, disability or old age. Our job is to make this possible.
For patients who need 24/7 care and attention, we will be there for them. For patients who only need scheduled treatment, we will be there too! We have a variety of care programs that you can choose from. These care solutions have made the lives of many families better up to this day. Let us bring you the expert care that we promise to bring – to your life we make a difference!
We look forward to being your care provider soon.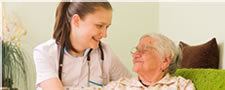 Contact Information

15719 Ensleigh
Lane, Bowie MD 20716
Phone: (301) 262-5669
Fax: (301) 576-6043
Hotline: (240) 460-0633
info@qhcscares.com